NEZ à NEZ WITH GERARD GATTI, FOUNDER OF GEODORA PERFUMES
NEZ à NEZ WITH GERARD GATTI, FOUNDER OF GEODORA PERFUMES
Meeting with Gérard Gatti at the Bergeries family estate in Montauroux, near Grasse, which
houses the GEODORA perfume creation laboratory and workshop. With a name that means
"gift from the earth", it is not surprising that this brand claims to have the ambition to
"creating beauty and doing good".
Gérard, you are the 2021 Laureate of the "Réseau Entreprendre Côte d'Azur" with your brand GEODORA, Parfumeur en Provence. What is your background?
My father's family is from Grasse and I spent all my youth in a village a few kilometers from Grasse. For thirty years, I have been involved in the development of fine fragrances, personal care and toiletries. First for various fragrances houses, then within my company Fragrances Concerto for over 20 years.
Why did you decide to create your own perfume brand?
GEODORA is not just another brand, it promotes a new model of perfumery. Our mission is to "creating beauty and doing good", because creating perfumes is about telling the story of life and addressing the intimate.
Most brands continue to adopt the "classic" codes of luxury and enclose the perfume in cellophane, then in a luxurious box and finally in sophisticated bottles, all promoted by a story telling. However, perfume is sufficient on its own and can do without all these features. At GEODORA, we are lovers of perfume as much as we are lovers of nature, and we believe that consumers are mature enough to appreciate a sincere approach focused on the quality of our perfumes and the preservation of our eco-systems.
How are your perfumes developed?
To create beauty, we have a global quality approach, from the conception of the perfume to its marketing. Priority is given to our palette, which integrates the most beautiful raw materials; then the maturation of the concentrates over a long period of time; then a maceration in alcohol for several weeks; and filling in our aluminum packaging. This allows us to avoid certain additives such as coloring agents because our bottles are made of opaque aluminum and preserve the perfumes from light. They are manufactured by Tournaire, a Living Heritage Company based in Grasse since 1833. Our perfumes contain nothing but an organic vegetable alcohol and a high percentage of our compositions. And many of the finishing operations are done by hand in our workshops in Montauroux.
What are the eco-responsible commitments that are important to you?
By committing ourselves to doing good, we want to be the most eco-responsible high perfumery brand on the market, and the first to offer packaging that is not only refillable, but also repackable.
Thanks to Stéphane Piquart and his company BEHAVE, among others, we have an ethical sourcing policy for essential oils, supervised by NGOs in the field. And through our commitment to the philanthropic group 1% For The Planet, we donate 1% of our sales to associations that work to preserve the environment.
Finally, we are proud to offer products that are 100% designed and manufactured in France with first class partners.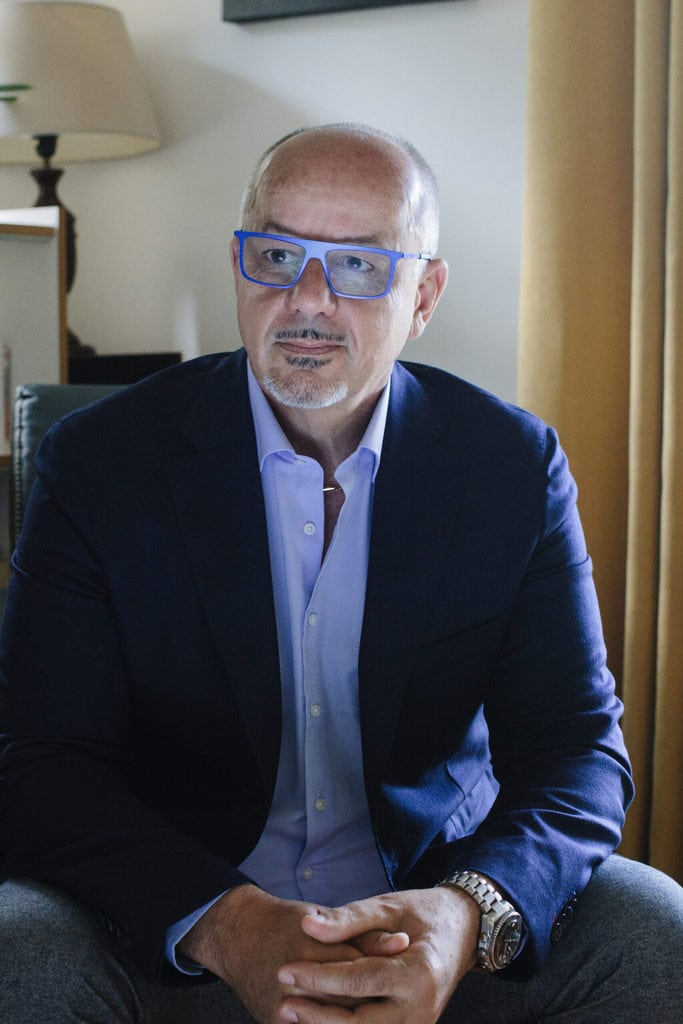 In your opinion, is the sector evolving too slowly on these subjects?
We are seeing developments, but they are not up to the challenges. At GEODORA, we have developed the principle of "Retributive Ecology": any customer who undertakes to return his empty perfume bottles in the pre-paid packaging of his new order, benefits from a 10% discount on his purchases.
Our packaging is reduced to the minimum, it must fulfill a double use and be durable. Double use for the labels of our solid soaps: made of paper sown with wildflower seeds and printed with a vegetable ink, they will produce a pretty bloom if put in the ground. Our organic cotton bags are made in ethical workshops and can be reused. Not to mention our Lavallière labels, made of the same paper as the scent keys, which can become nomadic diffusers…
With such an eco-responsible positioning, why didn't you formulate 100% natural fragrances?
With Fragrances Concerto and my partners, I was among the first to relaunch 100% natural fragrances in 2008. There are many advantages of natural products for toiletries and cosmetics, but there are also limits, especially for perfumes. Synthetic materials provide us with infinite services and are perfectly mastered in terms of consumer safety. For our perfumes, it was essential to combine the richness of nature with the strength and nuances of synthetic chemistry.
Our essential oils and beauty products are all 100% of natural origin because expectations are not the same. An essential oil, like our Madagascar Blue Ginger or Calabrian Mandarin, brings a freshness and vibrancy that creates a strong emotion, in a liquid soap for example, not to mention its virtues in aromatherapy. If the fragrance wears off after a few minutes, it's not a problem, but rather a benefit because it doesn't compete with your skin scent.
Aren't you afraid of having difficulty finding your place in the classic or so-called niche perfume stores?
Nous n'empruntons pas les mêmes canaux de diffusion. Je souhaite conserver la maîtrise de notre distribution, via notre site d'e-commerce, à l'atelier de Montauroux et prochainement au sein de l'espace Capsule de Cap 3000, à Saint-Laurent du Var.
We don't use the same distribution channels. I want to keep control of our distribution, via our e-commerce site, at the Montauroux workshop and soon at the Capsule space in Cap 3000, in Saint-Laurent du Var.
GEODORA is a brand of perfume experts; like me, my team comes from composition houses. We will soon innovate by choosing exceptional places, which have a soul, animated by passionate people. I also intend to make GEODORA a nomadic and agile brand that can quickly project itself on selected events in line with our values.
Another point on which we differentiate ourselves from other premium brands is our price positioning. We have chosen to manufacture everything in France and to supply ourselves with natural, ethical or organic raw materials. As a result, each one of our ingredients costs more than its classic equivalent. But we have reduced our costs by saving on secondary and tertiary packaging, additives and the communication budget, by relying on quality partnerships, and by controlling our distribution channels. All in all, we have achieved our goal of offering exceptional perfumes at the right price.
When you are driven by deep convictions and you offer French products of great quality, responsible and at the right price, you have what it takes to attract a large number of customers. I am sure that other players will follow this path of a beautiful and responsible perfumery, refocused on perfume, because the future belongs to it.
Les Eaux Vives, Les Eaux Libres, Les Eaux Intenses at the price of 45 € the 30 ml / 75 € the 60 ml / 125 € the 120ml
https://www.fragrancefoundation.fr/2021/10/nez-a-nez-avec-gerard-gatti-fondateur-des-parfums-geodora/