We admire nature, its treasures and its scents.
We respect its fragile harmony.
We live perfume as a universal and infinite source of happiness.

We believe that happiness should not be a luxury.
We believe that beauty is only true if it is ethical.
We promote artisanal perfumery created with honesty and emotion.
We are explorers of new olfactive territories; we create emotions.
Our perfumes

Fuji San Perfume – Eaux Vives
A free and joyful interpretation of a souchong tea grown on the slopes of Mount Fuji, enhanced with hints of red fruits and fresh spices. What makes it unique: Energetic radiance in the combination of red fruits and tea.
6,00 € – 125,00 €

Symphonie Oranger Perfume – Eaux Libres
Is an ode to the orange flower, so fragile and yet so powerful. Combined with Ylang Ylang from the Comoros, it develops a full and voluptuous trail. What makes it unique: A full and balanced floral bouquet that truly reveals itself through a slight gourmand inflection.
6,00 € – 125,00 €

Cuir Florès Perfume – Eaux Intenses
It opens with fresh spices and refined citrus, but quickly echoes with powerful woods, which beat time around a heart of iris to make a velvet floral leather. Why it's unique: An easy everyday floral leather, enhanced with a touch of salty air mist.
6,00 € – 125,00 €
See all our fragrances
The perfumer's Workshop
The perfumer's Workshop
The family estate, Les Bergeries in Montauroux, is the location of the GEODORA creation laboratory and workshop. This charming hilltop village is situated in the Var, a few kilometres from Grasse.
L'atelier du parfumeur (4 to 6 participants – 2 hours)
Immerse yourself in the world of perfumery by participating in our Perfumer's Workshop. Hosted by the experts of GEODORA in the most picturesque setting, the course is interactive and personal.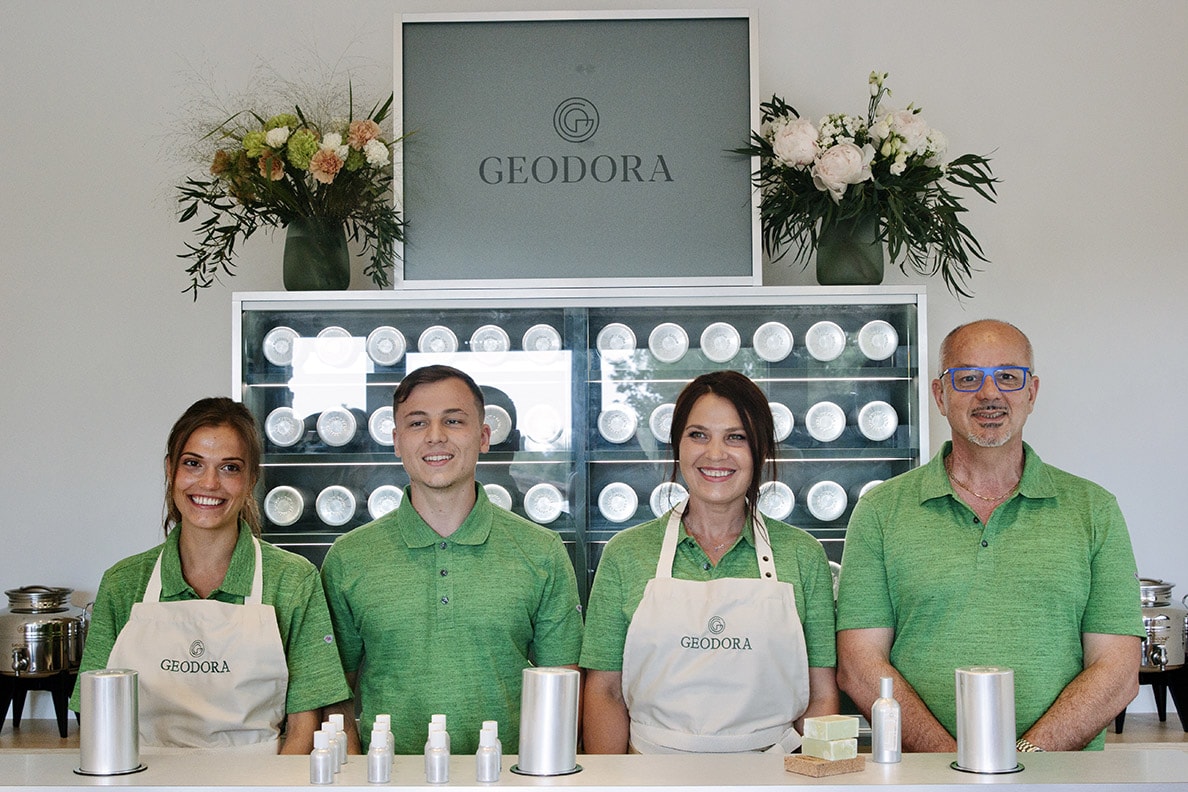 Parfumeur en provence
Parfumeur en provence
The roots of perfumers' palette are many, but a sense of place forms the core inspiration. Provence and its scents, its diaphanous light, its gourmet tastes, its diverse landscapes and the melody of its accents join together in perfect harmony to create the perfect canvas for our perfumes.