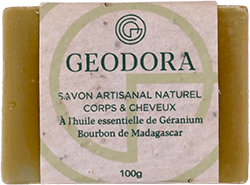 Soft soap with Geranium Bourbon of Madagascar Solid soaps
This geranium soap leaves a delicate floral scent on your skin and perfumes your home with its fresh rosy scent. Its essential oil offers anti-bacterial and stimulating properties. 100g Soap.
9,90 € – 11,00 €
Being sustainable means nothing goes to waste, so plant the seeded paper labels around our soaps in a pot of soil and enjoy beautiful wild flowers a few weeks later.