Essential oils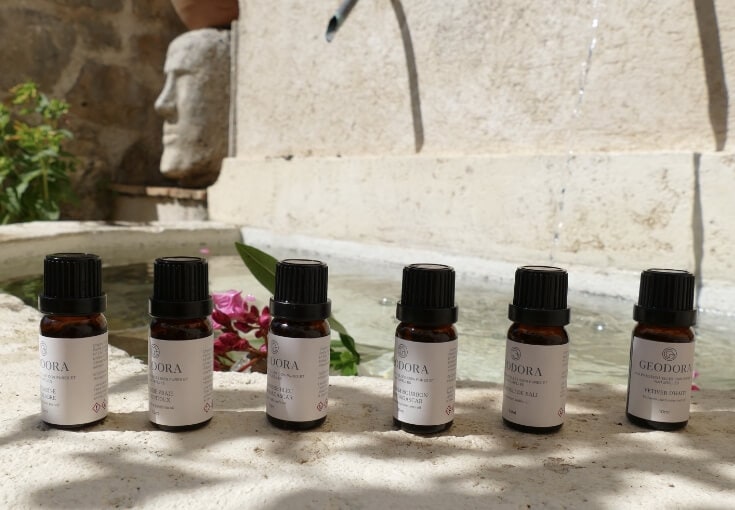 Essential oils
Pure, and 100% of natural origin, a selection of Ethiquessences to diffuse in your home to benefit from their many properties in aromatherapy.
Liquid soaps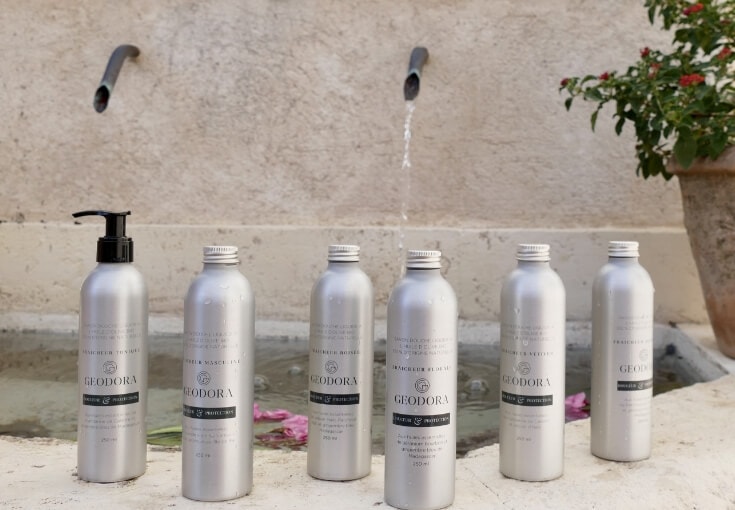 Liquid soaps
GEODORA's liquid shower soaps are made with saponified organic vegetable oils and an additional 8% unsaponified vegetable oil. They are ideal for all skin types. Their gentle action moisturizes and softens the epidermis day after day.

They can be used for the body as well as for the hair thanks to the action of the glycerin they contain.
Solid soaps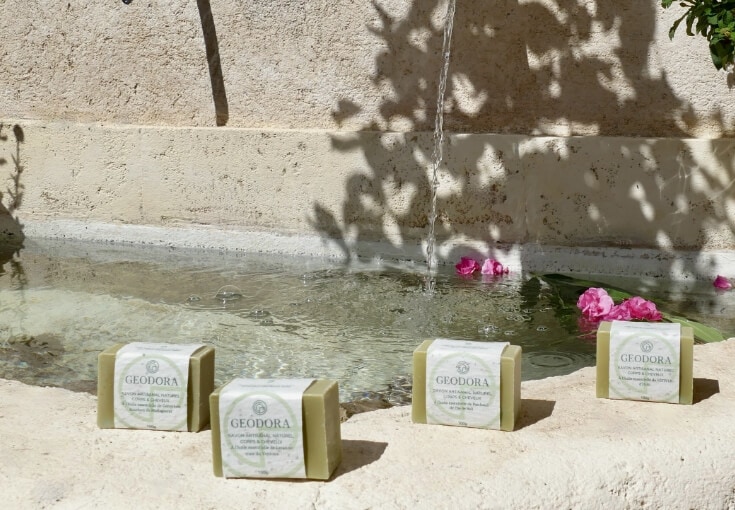 Solid soaps
Our solid soaps are 100% natural and composed of only a few key ingredients of superior quality.

- All solid soaps are made with organic olive oil.
- Our soaps contain 9% surgras
- GEODORA's ethical essential oils offer all the richness and beauty of their natural scents and the benefits of their active ingredients.

No additives, no colourants, and an ancestral manufacturing method guarantees high quality and ethically sound products for your skin.
The benefits of our soap recipes and our cold saponification (which is a natural reaction between a vegetal oil and sodium hydroxide) method are numerous.
COLD SAPONIFICATION
To make a solid soap by cold saponification, we mix ourorganic mono-varietal olive oil with soda. Once the mixture starts to thicken, we pour it into beechwood molds. After a few days, we unmold and cut our soaps by hand.
This process, unlike hot saponified, requires a much longer reaction time because we do not influence the thermodynamic factor. At GEODORA we apply a drying time of at least 8 weeks before marketing them.
The benefits of our soap recipes and cold saponification method are considerable.
The production of glycerine
Cold saponification has the advantage of preserving the glycerin produced during the reaction. Olive oil is the raw material for making glycerin. It is organic and vegan. Glycerin has as main property to nourish the skin and to moisturize it, with our soaps, solid or liquid, your skin remains soft and supple. This is the reason why you can use our soaps as shampoo because the high level of glycerin will nourish your scalp.
Our soaps contain 9% Surgras
Cold saponification is the only technique that allows us to add a surplus of vegetable oil that will not be saponified, which we call a surgras. Our solid soaps contain 9% and our liquid soaps 8%. This optimizes the protection and restoration of the epidermis' fatty film (called hydrolipidic film). Our soaps are formulated to guarantee the hydration and protection of your skin.